For emerging skincare brands, ingredient transparency isn't just a trend—it's the future. Consumers today are more informed than ever, and they crave authenticity. Prioritizing transparency and ensuring that each ingredient serves a purpose not only builds trust but also sets the stage for products that truly deliver on their promises.
La Roche Posay's tinted sunscreen combines water for dispersion, Dimethicone for smooth application, and Niacinamide for skin benefits. It uses Isododecane for a weightless feel, Silica for a matte finish, and Iron Oxides for tint and protection against blue light. Enhanced with antioxidants like Tocopherol, it ensures broad-spectrum UV defense.
Anthelios Mineral Tinted Sunscreen Product Overview
La Roche Posay's Anthelios Mineral Tinted Sunscreen is a lightweight sunscreen that boasts a 100% mineral formulation. The product is characterized by its fast-absorbing texture, leaving behind a matte finish on the skin. This tinted sunscreen is lightly colored with 1% iron oxides, providing a subtle, healthy glow to the skin, making it suitable for daily wear, even under makeup.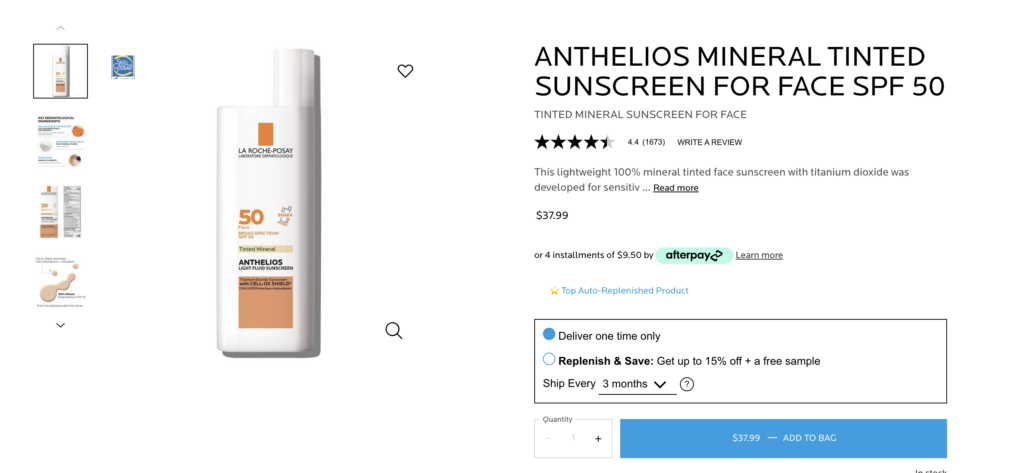 Product Target Consumers
La Roche Posay's Anthelios Mineral Tinted Sunscreen is a boon for Sensitive Skin Enthusiasts. Specifically formulated for delicate skin, it addresses the needs of individuals who often find themselves navigating the tricky landscape of skincare products that might irritate or cause breakouts. Moreover, for those in search of a daily wear sunscreen, this product emerges as a front-runner. Daily Wear Seekers can rejoice in a sunscreen that seamlessly fits into their morning routine, sitting comfortably under makeup without the dreaded white cast or greasy aftermath. The product's endorsement by the Skin Cancer Foundation makes it a top pick for Health-Conscious Individuals who prioritize their skin's health and are well-aware of the detrimental effects of sun exposure. Lastly, the Aesthetically Driven Consumers are in for a treat. This sunscreen doesn't just protect; it beautifies. With its tinted formulation, it promises an even skin tone, delivering a flawless finish that many crave.
How La Roche Posay Addresses These Pain Points
Sun damage is a real concern in today's world, and the Anthelios Mineral Tinted Sunscreen rises to the challenge by offering robust sun damage and photo-protection. Its broad-spectrum SPF 50 protection acts as a shield, warding off the harmful UVA and UVB rays that threaten to cause sunburn, premature aging, and other sun-induced damages. But protection isn't its only forte. Many sunscreens, while effective, often irritate sensitive skin, leading to redness, itchiness, or even allergic reactions. This product, with its dermatologist-tested formulation, ensures that such concerns are a thing of the past. And for those who've grappled with the notorious white cast left behind by many sunscreens, this tinted formulation is a game-changer, ensuring a natural, radiant finish devoid of any residue. Acne-prone individuals can also breathe a sigh of relief. The product's non-comedogenic nature guarantees that pores remain unclogged, reducing the risk of breakouts. In an era where consumers are increasingly scrutinizing product labels, the absence of parabens, fragrances, and oils in this sunscreen is a testament to its clean and safe formulation. Lastly, in a world growing more environmentally conscious by the day, the product's 100% mineral filters position it as a more eco-friendly sunscreen option, setting it apart in a crowded market.
In the vast sea of skincare products, sunscreens play a pivotal role. They're not just about preventing sunburns; they're about comprehensive skin health. La Roche Posay's Anthelios Mineral Tinted Sunscreen For Face Spf 50 is a testament to what an effective sunscreen should be, and here's why:
Product Efficacy
At its core, the primary function of any sunscreen is to protect the skin from the harmful effects of the sun. With its broad-spectrum SPF 50 protection, this product ensures that both UVA and UVB rays – the main culprits behind sunburn, premature aging, and other sun-induced damages – are kept at bay. The inclusion of Cell-Ox Shield® technology further amplifies its protective capabilities, combining photostable UVA/UVB filters with powerful antioxidants. This not only shields the skin from the sun but also defends against damaging free radicals, which can accelerate skin aging.
What sets this sunscreen apart is its meticulous formulation. It's not just another sunscreen; it's a sunscreen designed with sensitive skin in mind. Its 100% mineral formulation ensures minimized risk of irritation, making it a top choice for those with delicate skin. Moreover, its non-comedogenic nature ensures that it won't clog pores, a significant concern for many, especially those with acne-prone skin. Add to that its fast-absorbing, matte-finish texture, and you have a product that feels as good as it looks.
The beauty of this product lies not just in its protective capabilities but also in its aesthetic appeal. The tinted formulation, lightly colored with iron oxides, offers dual benefits. It provides sun protection while simultaneously evening out the skin tone, eliminating the need for a separate foundation or BB cream. For those looking to streamline their morning routine or simply prefer a more natural look, this product is a game-changer. It promises protection with a hint of color, giving the skin a natural, radiant glow.
Consumer Recognition
The market's response to this product has been overwhelmingly positive. Consumers appreciate its dual benefits – protection and beautification. Many have lauded its lightweight texture, noting that it doesn't feel heavy or greasy on the skin. The product's recommendation by the Skin Cancer Foundation further boosts its credibility, with many users highlighting this endorsement as a testament to its efficacy. The consistent feedback is clear: it's not just a sunscreen; it's a skincare essential.

Anthelios Mineral Tinted Sunscreen Ingredient Analysis
In the world of skincare, ingredients are the backbone of any product. They determine not just the product's efficacy but also its safety. For brands looking to make a mark in the industry, understanding these ingredients is paramount. Let's delve deep into the ingredient list of La Roche Posay's Anthelios Mineral Tinted Sunscreen For Face Spf 50 and uncover the magic behind its formulation.
WATER: The foundation of most cosmetic formulations, it acts as a solvent facilitating the dispersion of both hydrophilic and lipophilic ingredients, ensuring a homogenous product.
ISODODECANE: A hydrocarbon ingredient that offers a non-greasy, weightless feel. It aids in the evaporation process, ensuring a quick-drying and long-wearing formula, especially vital for sunscreens.
C12-15 ALKYL BENZOATE: A versatile ester that acts as both an emollient and a solvent for UV filters, enhancing the sunscreen's spreadability and overall sensory experience.
DIMETHICONE: A silicone that forms a protective barrier on the skin, preventing moisture loss. It provides a silky, smooth application, improving the product's spread and adherence.
UNDECANE & TRIETHYLHEXANOIN: These are emollients that not only moisturize but also aid in achieving a desirable product texture, ensuring even application and preventing any pilling on the skin.
ISOHEXADECANE: A texture enhancer, it offers a non-greasy, velvet finish, ensuring the sunscreen doesn't feel heavy on the skin.
STYRENE/ACRYLATES COPOLYMER: A film-forming agent, crucial for water-resistance in sunscreens. It ensures the product adheres to the skin, even in humid conditions or during perspiration.
NYLON-12: This polyamide offers oil-absorbing properties, ensuring a matte finish, especially beneficial for those with oily skin types.
CAPRYLYL METHICONE: A silicone that enhances the product's spreadability, ensuring a thin, even layer of protection across the skin.
BUTYLOCTYL SALICYLATE: A UV filter solvent that ensures even dispersion of sunscreen agents, enhancing the product's photoprotection capabilities.
PHENETHYL BENZOATE: Apart from its fragrant properties, it acts as a UV filter, offering additional sun protection.
SILICA: A sebum-absorbing agent that provides a matte finish, counteracting any potential shine from the sunscreen components.
DICAPRYLYL CARBONATE & DICAPRYLYL ETHER: These are lightweight emollients that enhance the product's sensory feel without leaving a greasy residue.
TALC: A natural mineral that aids in oil absorption and improves the spreadability of the product.
ALUMINUM STEARATE, ALUMINA, & ALUMINUM HYDROXIDE: These agents stabilize the formulation, ensuring the even dispersion of pigments and UV filters. They also enhance the product's water-resistance capabilities.
PEG-9 POLYDIMETHYLSILOXYETHYL DIMETHICONE & DIMETHICONE / PEG-10/15 CROSSPOLYMER: These silicones improve the product's water-resistance and longevity on the skin, ensuring consistent UV protection throughout wear.
IRON OXIDES: Beyond providing the tint, these mineral pigments offer protection against visible and blue light, which are increasingly recognized as contributors to skin aging.
POLYHYDROXYSTEARIC ACID: An emulsifier that ensures even dispersion of ingredients, particularly essential for the uniform distribution of UV filters.
PHENOXYETHANOL: A widely-used preservative that ensures the product remains stable and free from microbial contamination.
MAGNESIUM SULFATE: A viscosity controller that ensures the product maintains a consistent texture, aiding in even application.
PROPYLENE GLYCOL: A humectant and solvent, it attracts moisture to the skin and helps dissolve other ingredients, ensuring a homogenous mixture.
PEG-8 LAURATE: A surfactant that aids in the dispersion of the product's ingredients, ensuring a consistent formula.
STEARIC ACID: A fatty acid that acts as an emulsifier, ensuring the oil and water components of the product remain combined.
DISTEARDIMONIUM HECTORITE: A thickening agent that also stabilizes emulsions, ensuring the product maintains its intended consistency.
DIETHYLHEXYL SYRINGYLIDENEMALONATE: An antioxidant that offers protection against free radicals, enhancing the skin's defense against environmental stressors.
TOCOPHEROL: Also known as Vitamin E, this potent antioxidant combats free radicals, offering skin reparative properties and enhancing the product's protective capabilities.
CASSIA ALATA LEAF EXTRACT: A botanical extract known for its antioxidant properties, it further boosts the product's defense against UV-induced free radicals.
MALTODEXTRIN: A plant-based ingredient that can enhance the stability of active ingredients and also offer skin-soothing properties.
BENZOIC ACID: A preservative that also offers skin-soothing properties, ensuring the product remains fresh and is gentle on the skin.
DISODIUM STEAROYL GLUTAMATE: An emulsifier that also offers skin-conditioning properties, ensuring the product feels comfortable on the skin.
3 Key Ingredients
CELL-OX SHIELD® TECHNOLOGY
This proprietary technology is a testament to the advancements in skincare science. At its core, Cell-Ox Shield® combines two crucial elements for skin protection:
Photostable UVA/UVB Filters: Traditional sunscreens can degrade upon exposure to sunlight, reducing their effectiveness. Photostable filters, however, retain their protective qualities even when exposed to sunlight for prolonged periods. This ensures consistent and long-lasting protection against the sun's harmful rays.
Powerful Antioxidant Protection: Beyond just blocking the sun's rays, this technology offers a defense mechanism against the damage caused by free radicals. When our skin is exposed to UV rays, it can generate free radicals – unstable molecules that can harm the skin's structure and accelerate aging. By incorporating antioxidants, Cell-Ox Shield® neutralizes these free radicals, offering an additional layer of protection.
For a brand aiming to launch its skincare line, understanding and possibly integrating such dual-action technologies can be a game-changer. It's not just about blocking the sun but also repairing and preventing the damage it can cause.
TITANIUM DIOXIDE
Titanium Dioxide is a mineral sunscreen, often referred to as a physical or inorganic sunscreen. Unlike chemical sunscreens that absorb UV rays and transform them, Titanium Dioxide sits on the skin's surface and reflects the sun's rays, much like a mirror. This has several advantages:
Broad Spectrum Protection: It offers protection against both UVA (aging) and UVB (burning) rays, ensuring comprehensive sun defense.
Sensitive Skin Friendly: As it forms a barrier on the skin's surface and doesn't get absorbed, it's often recommended for sensitive or reactive skin types.
Immediate Protection: Unlike some sunscreens that need time to become effective after application, Titanium Dioxide works immediately upon application.
For emerging brands, utilizing Titanium Dioxide can cater to a wide audience, especially those with sensitive skin, ensuring immediate and effective sun protection.
IRON OXIDES
Iron Oxides are natural mineral pigments that serve dual purposes in the realm of sun protection:
Tinted Protection: They provide the color in tinted sunscreens, offering a cosmetic benefit by evening out skin tone and providing a natural glow. This eliminates the need for makeup, making it a two-in-one product.
Protection Against Visible Light: Recent studies suggest that visible light, especially blue light from electronic devices, can also contribute to skin aging. Iron Oxides have been shown to offer some degree of protection against this, making the sunscreen even more comprehensive in its defense mechanism.
For brands looking to differentiate themselves in the market, offering sunscreens with Iron Oxides can appeal to the modern consumer, who is not only outdoors but also frequently exposed to screens.
Opportunities for product improvement formulations
La Roche Posay's Anthelios Mineral Tinted Sunscreen is undoubtedly a stellar product in the skincare market, boasting a combination of sun protection and skincare benefits. However, like all formulations, there's always room for innovation and enhancement. For budding brands aiming to make their mark, understanding potential optimizations can be the key to standing out. Here are some suggestions and insights: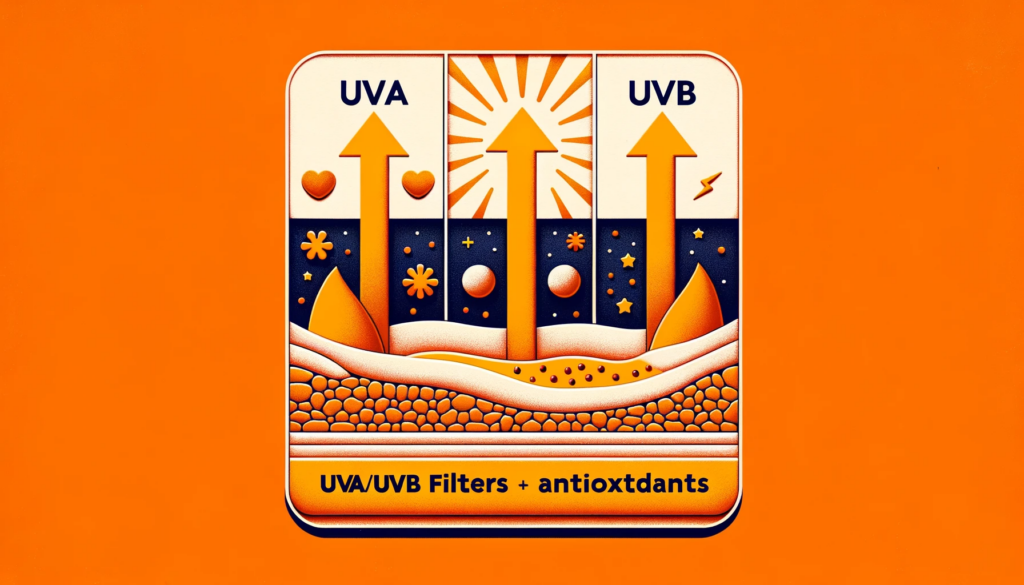 Enhancing Hydration
While the current formula is non-greasy and fast-absorbing, adding hydrating ingredients like Hyaluronic Acid or Glycerin can provide an added moisture boost. This would cater to those with dry skin, ensuring they receive both sun protection and hydration in one product.
Incorporating Blue Light Protection
With the increasing screen time in our digital age, protection against blue light is becoming a sought-after feature. Ingredients like Lutein can be added to the formula to offer defense against the harmful effects of prolonged screen exposure.
Broadening the Tint Range
Diversifying the range of tints can cater to a broader spectrum of skin tones. This inclusivity can appeal to a global audience, ensuring everyone finds a match that complements their natural skin color.
Introducing Natural Extracts
The addition of botanical extracts like Green Tea, Chamomile, or Licorice can offer soothing properties, making the sunscreen even more suitable for sensitive or irritated skin.
Replacing Silicones for a More Natural Feel
While Dimethicone provides a smooth application, some consumers prefer products without silicones. Alternatives like Squalane or natural oils can offer a similar skin-feel without the use of silicones.
Addressing Specific Skin Concerns
For those with acne-prone skin, ingredients like Niacinamide or Salicylic Acid can be integrated to offer acne-fighting benefits alongside sun protection. For mature skin, peptides or retinol can be added to provide anti-aging benefits.
Enhancing Environmental Protection
Beyond UV rays, our skin is exposed to pollutants and environmental aggressors daily. Ingredients like Vitamin C or Ectoin can be added to the formula to offer protection against these external factors, ensuring the skin remains healthy and radiant.
Considering Vegan or Cruelty-Free Formulations
With the rising demand for ethical skincare, formulating the sunscreen to be vegan or ensuring cruelty-free testing can appeal to a conscious consumer base.
In the dynamic world of skincare, understanding product formulations isn't just a luxury—it's a necessity. As we've delved into the intricate details of La Roche Posay's Anthelios Mineral Tinted Sunscreen For Face Spf 50, it's evident that every ingredient plays a pivotal role in the product's performance and appeal. This knowledge isn't just for cosmetic appreciation; it's the foundation upon which successful skincare brands are built.
If you're on the cusp of launching your skincare brand or are eager to refine your existing formulations, remember: the beauty lies in the details. And if you're seeking guidance or are ready to embark on your private label journey, Blackbird Skincare is here to illuminate the path. Reach out to us, and let's craft skincare that resonates, rejuvenates, and revolutionizes.Contact us today!